Chocolate.
And not just any chocolate - beautiful, hand-dipped and hand-painted chocolates of the perfect taste and texture are what I crave. One of my favorites is
Temper Chocolates
, a small kiosk located in the Commonwealth Hotel lobby (and available online!) It's hard to go wrong with any of the fabulous chocolate "bon bons" which come in a variety of unique flavors such as Mexican Chipotle, Salted Caramel and Champagne. Temper also carries a variety of chocolate bars from around the world and an ADORABLE line of chocolate truffle handbags:
Temper serves an excellent selection of teas and espresso coffees as well as delicious European style hot chocolate for you to sip while wandering through the elegant Commonwealth Hotel lobby shops or lounging in one of the decadent brocade chairs. Check out the website for a menu and event listings!
If you are looking for the perfect gift for a foodie friend, the Paris-based chocolate company,
Richart
, is your place. There is a shop located in the Copley Mall and wares are also available online. Select your chocolates by flavor family: balsamic, roasted, fruity, citrus, herbal, floral or spiced. The exquisite flavors are designed to tempt your mouth with increasingly perfected tastes and aromas as you sample across the box. If you are on the lookout, Richart occasionally hosts free tasting events where you can sample to your heart's content (so long as you have no shame in returning for seconds, thirds and fourths!)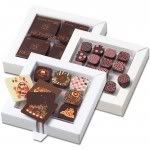 ~flutterbyblue